Invigor8
Industry

Health and wellness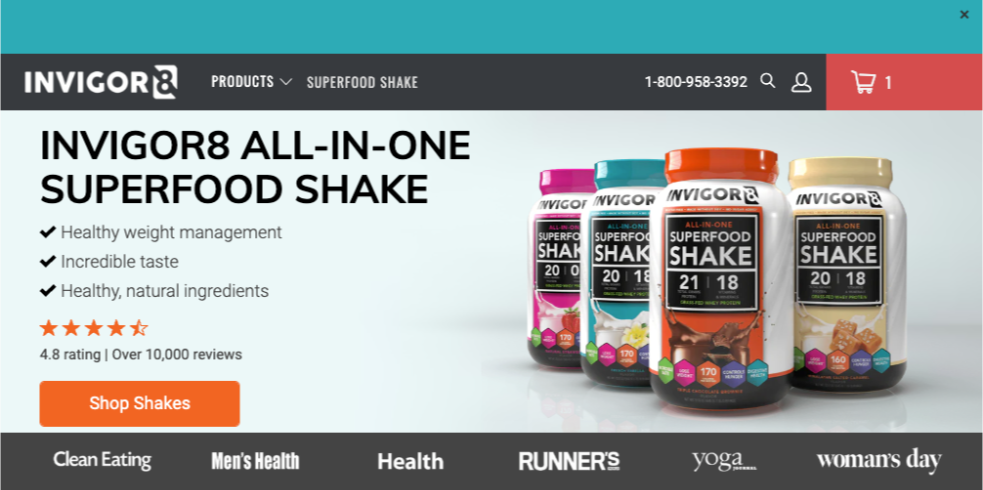 Development, Theme customization
As a professional in the field of web development, we specialize in creating innovative and visually appealing online e-commerce stores while ensuring seamless functionality and user experience. Our theme customization for Invigor8 aligns perfectly with their business's unique branding and objectives of businesses and individuals. By leveraging my technical proficiency in coding languages such as HTML, CSS, and JavaScript, we meticulously modify themes to create a cohesive and personalized online presence. I possess a keen eye for design aesthetics and possess the ability to harmonize color schemes, typography, and layout elements to enhance the overall visual impact of a website, with a deep understanding of user interface and user experience principles. E-commerce development encompasses a range of crucial elements, including setting up product catalogs, integrating payment gateways, implementing shopping cart functionality, and establishing secure checkout processes. Additionally, it involves creating intuitive and responsive user interfaces, optimizing the website for search engines, and incorporating features such as inventory management and order tracking.
Ongoing Website Management
As a professional in the realm of web development, we possess a comprehensive understanding of the importance of ongoing website management. Beyond the initial design and development phase, we provide effective management solutions to ensure the continued success and smooth operation of Invigor8. Since joining we conduct regular updates and maintenance tasks to keep websites secure, optimized, and running at peak performance. We have cleaned and reformatted hundreds of lines from previous development that had taken place. We adept at implementing robust security measures to safeguard websites from potential threats and vulnerabilities. Additionally, our team possesses strong analytical skills, enabling me to track website metrics, gather insights, and make data-driven decisions to enhance user experience and achieve business goals. With our expertise in ongoing website management, clients can rest assured that their websites are in capable hands, allowing them to focus on their core business activities while enjoying a consistently reliable and high-performing online presence.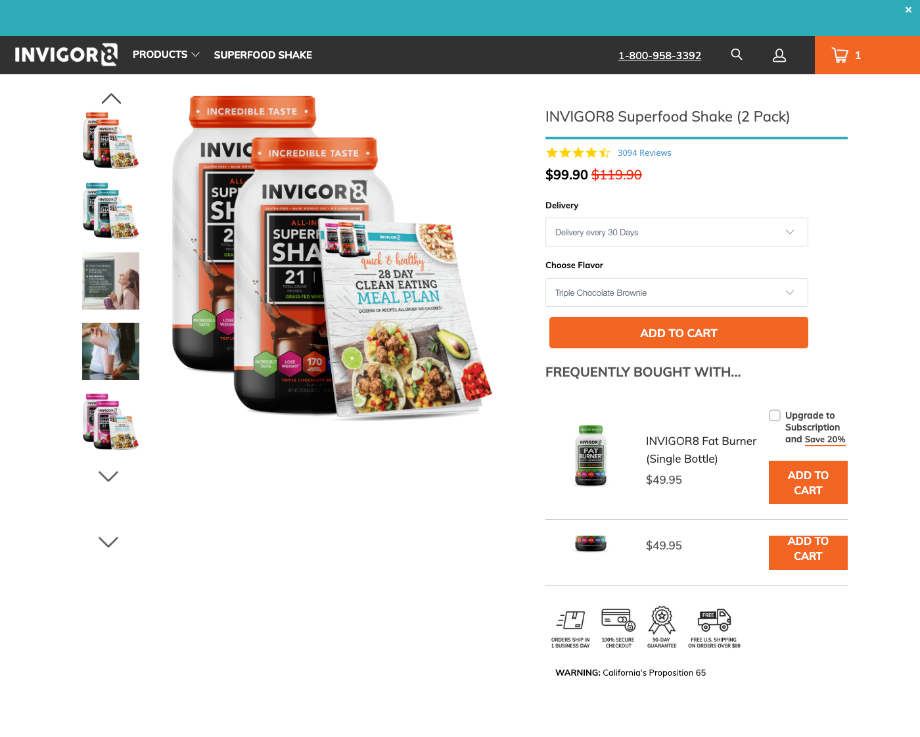 UpSell (goal 1600 pieces 30 days sell - Sold 1500, only 2 customer service calls
Quick Sales solutions. Upselling in ecommerce refers to the sales technique of encouraging customers to purchase a higher-priced or upgraded version of a product or service they are already considering or have added to their shopping cart. It is a strategy employed by online retailers to increase their average order value and maximize revenue. Through upselling, businesses can present customers with additional options, features, or enhancements that enhance the value and utility of their purchase. This can be achieved by showcasing related or complementary products, offering discounted bundles, or highlighting premium versions with superior features. Effective upselling requires a deep understanding of customer preferences, needs, and purchasing patterns, as well as the ability to present compelling and personalized offers at the right stage of the buying journey. By successfully implementing upselling techniques in ecommerce, businesses can not only boost their sales but also provide customers with better choices and superior products, leading to increased customer satisfaction and loyalty.
Shopify App / Custom middleware app development, Recharge, HDYHAU
As a professional specializing in Shopify app and custom middleware app development, our team possesses extensive experience in creating tailored solutions that enhance the functionality and capabilities of Shopify stores. With a deep understanding of the Shopify ecosystem, We developed a private app that seamlessly integrates with the platform, offering unique features and functionalities to meet specific business requirements. Utilizing Recharge and Shopify API, we can capture user experience as they purchase a subscription. With my proficiency in the Shopify app and custom middleware app development, we empower businesses to leverage the full potential of their Shopify stores, driving growth and success in the highly competitive e-commerce landscape.
Website Audit and Optimization Strategy, Performance enhancement
We provided invigor8 in website audit and optimization, bringing a comprehensive approach to improving website performance and enhancing the overall user experience. With a meticulous eye for detail, audits have been conducted thoroughly to identify areas of improvement, ranging from website speed and responsiveness to SEO optimization and usability. Our team develops a data-driven optimization strategy tailored to each website's unique goals and target audience by analyzing website metrics, conducting keyword research, and performing competitive analysis. This includes optimizing website structure, meta tags, and content to improve search engine visibility, as well as streamlining code, optimizing images, and implementing caching mechanisms to enhance website speed and performance. Additionally, improve user experience by optimizing navigation, minimizing page load times, and ensuring mobile responsiveness. By implementing my website audit and optimization expertise, we have boosted invigor8's online presence and increased the load speed by up to 30%, empowering their businesses to maximize their online presence, boost organic traffic, and provide visitors with a seamless and enjoyable browsing experience.
Our Process
Concept

Prototype

Development

Launch
Technologies we work with