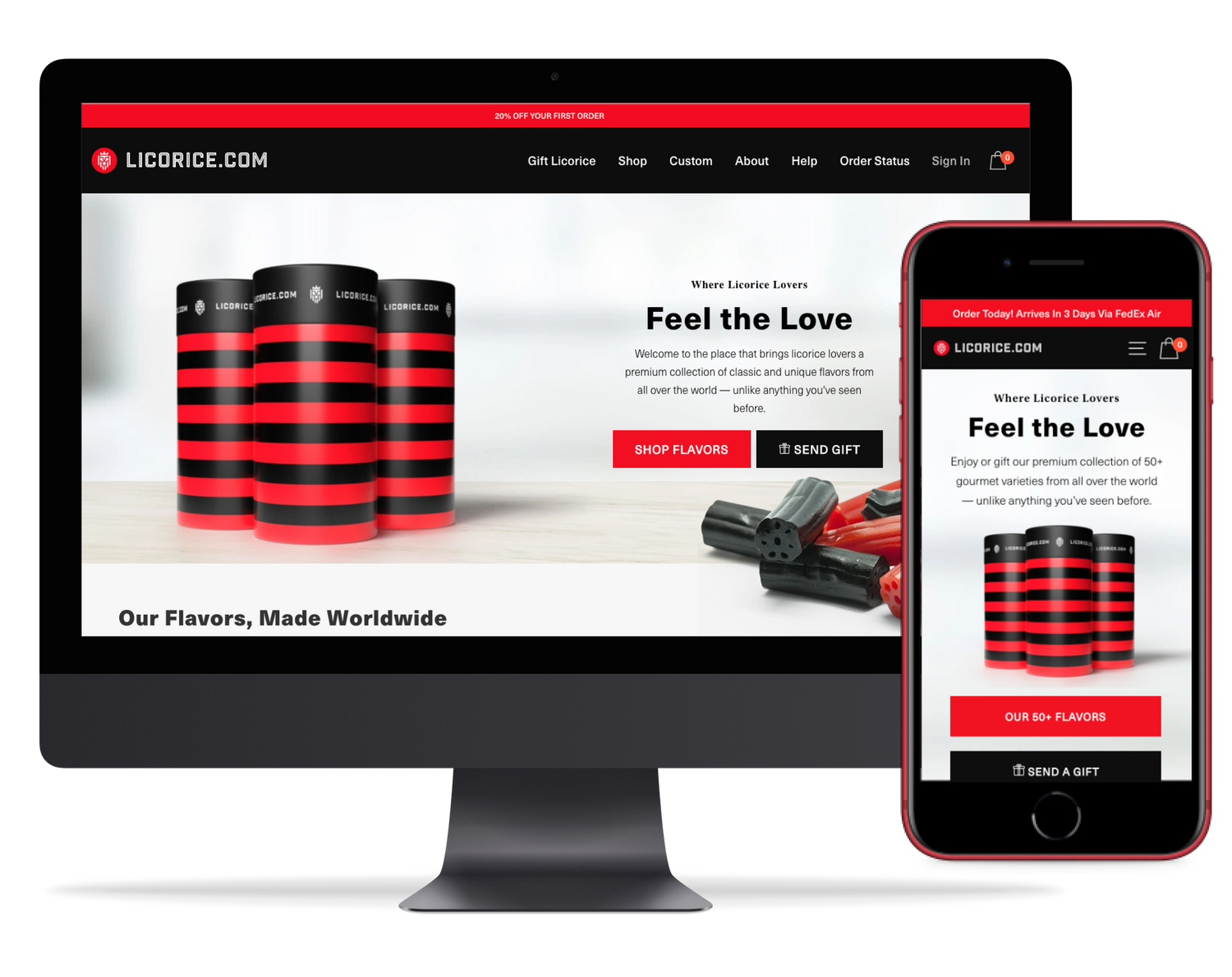 Branding & Design
LMP Tech Solutions understands the crucial role that visual identity plays in shaping a company's perception and success. With a keen eye for aesthetics and a deep understanding of brand strategy, I collaborate with businesses to develop captivating and cohesive brand identities. Through extensive research, analysis, and consulting, we identify key brand attributes and target audience preferences to create compelling visual elements such as logos, color palettes, typography, and graphic assets. . Additionally, businesses can utilize Shopify's design tools to create engaging product pages, optimize images, and showcase their products or services in an enticing manner. By harnessing the power of branding and design, I help businesses establish a strong and differentiated presence in the market, effectively communicating their message and fostering customer loyalty. Since Licorice has launched with Shopify Plus, They have exceeded their growth expectation and launched additional brands.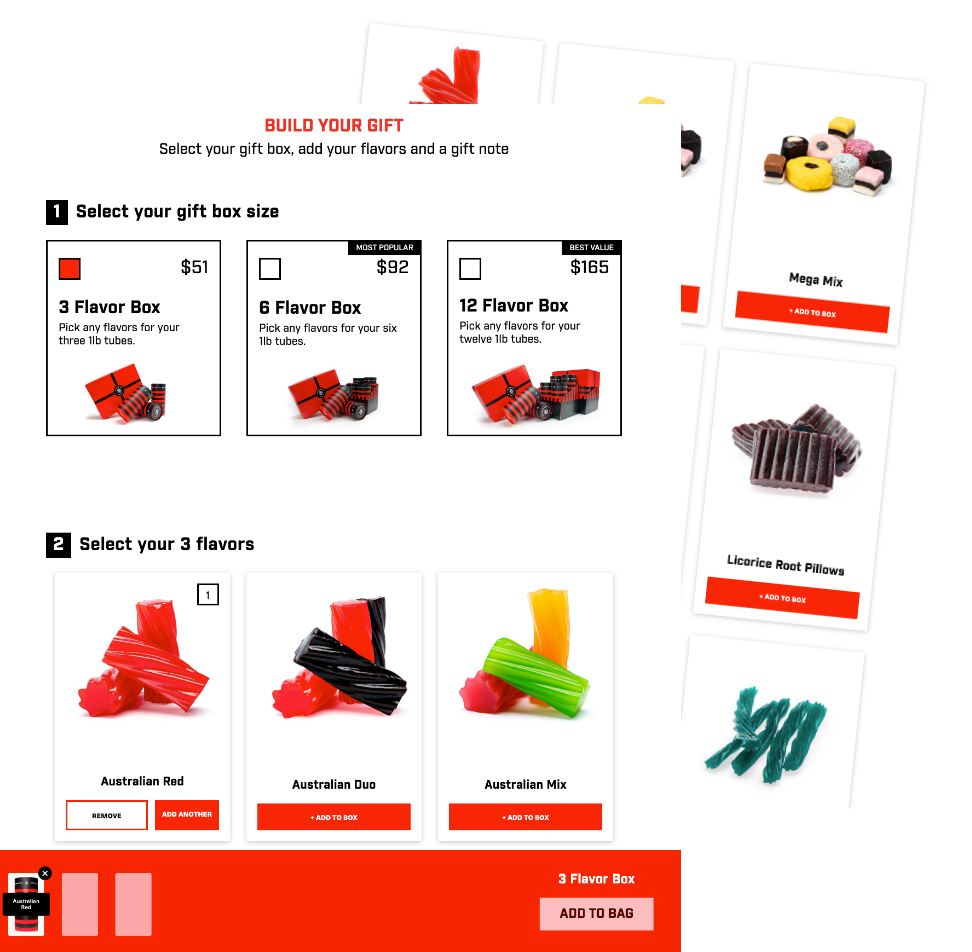 Development, Theme customization ( Build A box feature)
In the field of web development, we specialize in creating innovative and visually appealing online e-commerce stores while ensuring seamless functionality and user experience. Our theme customization for Licorice aligns perfectly with their business's unique branding and objectives of businesses and individuals. We developed a unique Build-A-Box feature that offers customizable product bundles or subscription boxes to their customers. By leveraging this powerful functionality, businesses can cater to individual preferences and provide a flexible and interactive shopping solution. Through intuitive customization options, customers can select specific items, quantities, and variations to build their ideal box or send a gift to loved ones. By empowering customers to curate their own boxes, businesses can increase customer engagement, boost sales, and foster a sense of ownership and satisfaction. Additionally, Licorice has an intuitive and responsive user interface, optimizing the website for search engines, and incorporating features such as inventory management and order tracking to have them be visible on the major search engines.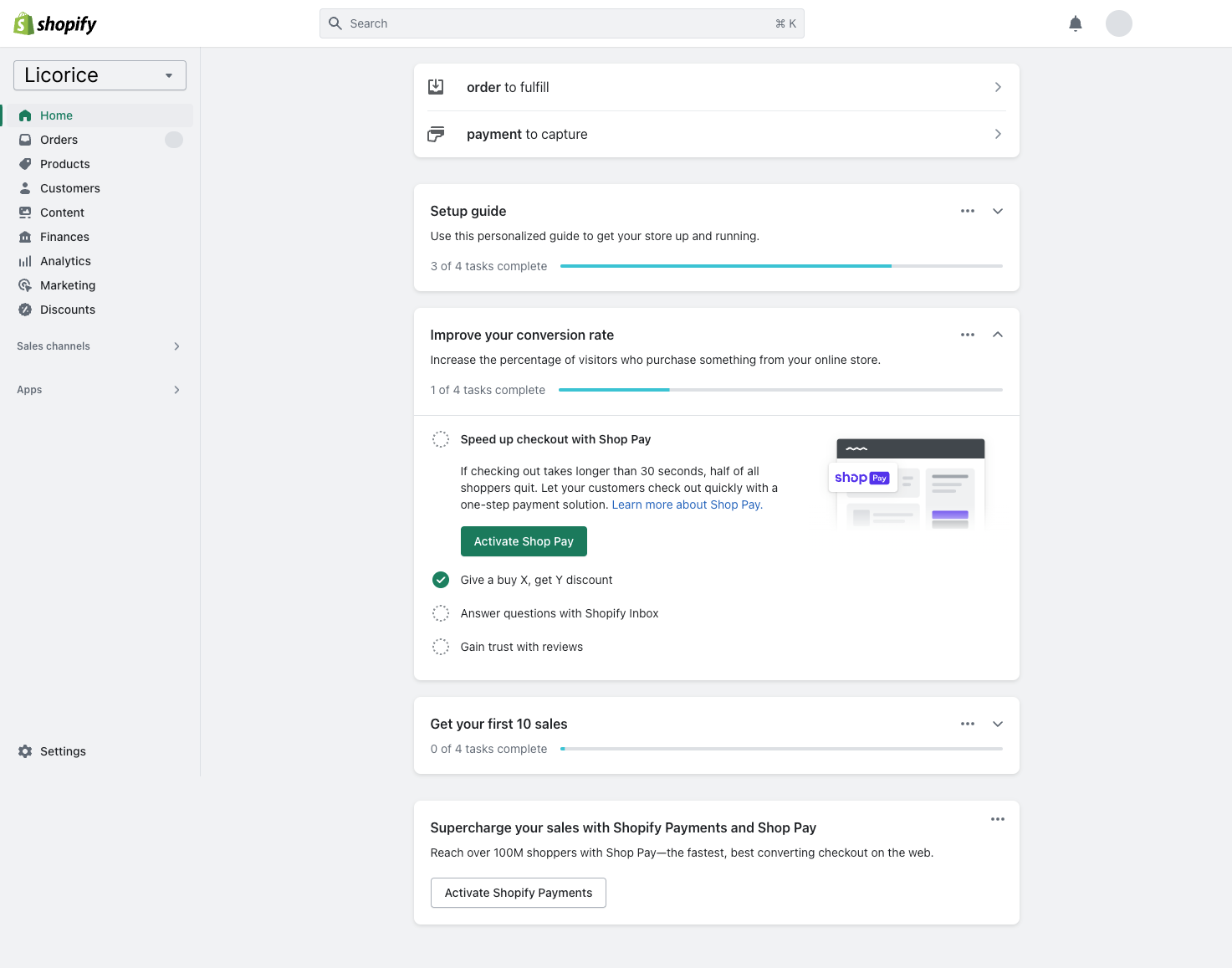 Dashboard Team Management Training
We offer comprehensive training in Shopify Dashboard Team Management. With a deep understanding of the platform's features and functionalities, I provided Pale Horse Coffee with the knowledge and skills to effectively manage their Shopify store through the dashboard. This training program equips store owners and their teams with the knowledge and skills to navigate and utilize the Shopify store dashboard efficiently. The training covers various aspects, including product, management, access control, team collaboration, and maintaining content. We guide teams on how to create and manage user accounts with appropriate permissions, ensuring a secure and streamlined workflow. Additionally, I educate on how to leverage Shopify's collaboration tools, enabling efficient communication and task assignment among team members. By offering insights on inventory management, order fulfillment, and analytics interpretation, our team equipped Pale Horse Coffee with the tools they need to make data-driven decisions and optimize business performance. Through hands-on training, I empower businesses to leverage the full potential of the Shopify dashboard, leading to improved team coordination, increased productivity, and, ultimately, the success of their online store.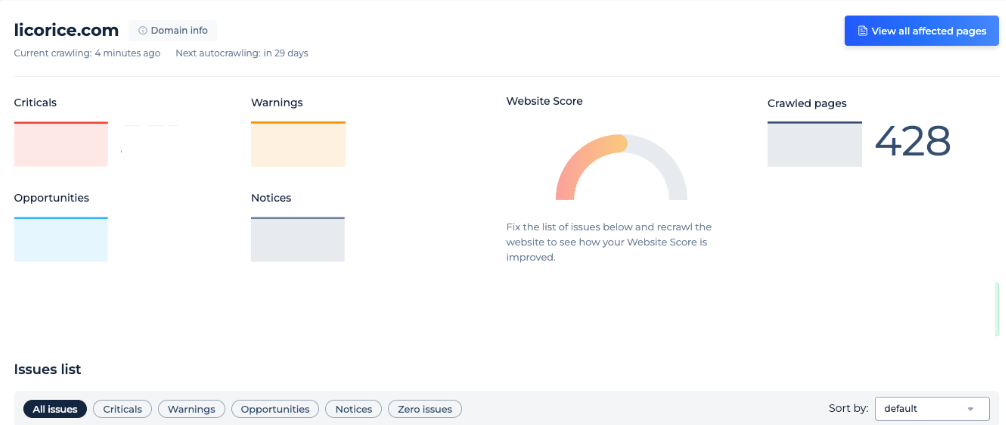 Website Audit and Optimization Strategy, Performance enhancement
We provided Licorice in website audit and optimization, bringing a comprehensive approach to improving website performance and enhancing the overall user experience. With a meticulous eye for detail, audits have been conducted thoroughly to identify areas of improvement, ranging from website speed and responsiveness to SEO optimization and usability. Our team develops a data-driven optimization strategy tailored to each website's unique goals and target audience by analyzing website metrics, conducting keyword research, and performing competitive analysis. This includes optimizing website structure, meta tags, and content to improve search engine visibility, as well as streamlining code, optimizing images, and implementing caching mechanisms to enhance website speed and performance. Additionally, improve user experience by optimizing navigation, minimizing page load times, and ensuring mobile responsiveness. By implementing my website audit and optimization expertise, we have boosted invigor8's online presence and increased the load speed by up to 30%, empowering their businesses to maximize their online presence, boost organic traffic, and provide visitors with a seamless and enjoyable browsing experience.
Our Process
Concept

Prototype

Development

Launch
Technologies we work with